[This project is currently on hold]
The digger has an iconographic status in Australian society and in recent years thousands of families have charted the service record of relatives who served in the first AIF.  'A Land Fit for Heroes?' will extend and enrich those histories, recovering the returned soldier as important a historical entity as the men and women who went to war.  It will look at ways that our society has tried to recover from the trauma of war, examine our veterans' return to Australia and their sometimes difficult readjustment to civil society.   Sometimes physically disabled, soldier settlers faced a new battle in 'opening up' the land.   Like many in regional NSW today they struggled against isolation, financial hardship, drought and environmental degradation. This project will address pressing challenges facing regional Australia evaluating the role of soldier settlement in populating remote districts and assessing the long-term environmental costs.  We also acknowledge that soldier settlements sometimes came into conflict with older systems of land management, competing in some cases with the needs and aspirations of the traditional owners of the land.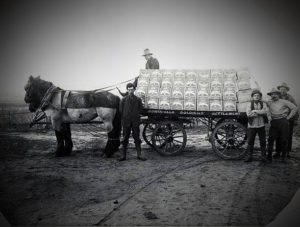 What does this website aim to do?
Gathering together a rich archival and oral history record 'A Land Fit for Heroes?' will:
Assess the relative success and failure of soldier settlement across a vast and geo-physically diverse area, charting the working of the scheme across NSW;
Highlight the experience of the soldiers themselves and their families through a careful evaluation of their testimony;
Chart the changing lineage of the Anzac Legend, noting the way in which former soldiers were exhorted to take up a new battle with the frontier; and
Relate the success or failure of individual farmers to their war service overseas, cross referencing individual land files with an equally rich archive of AIF service/repatriation dossiers.
Project outcomes
Our aim is to produce a history of local, national and international significance.  The project's outcomes will include:
A co-authored book, written for both a popular and academic audience, and a series of ground breaking articles in national and international forums
A doctoral thesis that will help guide future researchers (including family/local historians) through a maze of government records, retrieving the untold stories of returned soldiers, their families and their communities
This interactive website designed to retrieve community memories of soldier settlement and make the history of the scheme assessable to the wider community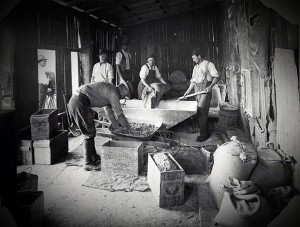 Who leads this project?
For a brief biography of each of the academics, archivists and family historians involved in 'A Land Fit for Heroes?' select a name below:
Monash University, the University of England, State Records NSW and DVA acknowledge the generous assistance of State Records' volunteers.  Involved in this project are:
Ann Knowles
Anne has an Advanced Certificate in Custom Clothing from TAFE.  She has volunteered for ten years with stroke victims helping to establish a Stroke Club in the Nepean area. She has also undertaken a course at TAFE training to be a volunteer to work in literacy programs helping new migrants learn English and young people with literacy difficulties.  She has been a volunteer at State Records for three years.
Julie Schippers
Julie has a strong background in web development and computer systems.  She has three Certificates in Information Technology for multimedia web design, communications and planning.  Her previous employment was as a Network Manager at a high school where she was responsible for 180 computers. She has been a volunteer at State Records since March 2009.